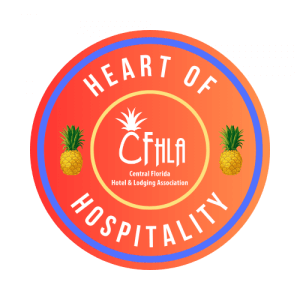 Erin Arpke
Avanti International Resort
Erin has been with Paramount Hospitality Management for the past seven years, including the last two as general manager of the Avanti International Resort.
A current member of the CFHLA Board of Directors, as well as the Association's Employee Relations and Adopt-A-School/CARES committees, Erin's first job in the hospitality industry was as a hostess/night supervisor at a restaurant in her hometown of Inverness, Florida. With a desire to work in the hospitality industry, she, like many others, came to Orlando to attend the nation's top hospitality program at UCF Rosen College of Hospitality Management. While working for a local restaurant she attended her first Rosen College career fair, where she was offered a position at a local hotel, beginning her career in the lodging industry.
Erin says that what she loves most about the industry is that each day is never the same, as there is always an opportunity to learn new things, work with different people and interact with guests from all over the world. She particularly enjoys the feeling knowing she has made a difference in someone's day or vacation just by doing what we do best- providing great service!
Erin has been given the opportunity to share her experiences and knowledge with the future leaders of the industry, an opportunity she enjoys. She speaks about how throughout her career she always had people assisting along the way and introducing her to various aspects of the industry. Erin always found that the teachings and experience of others to become better at what they do, or even if it was just a fun and interesting time in their career was impactful to her as she continued to grow. Now, she can pay that forward and encourages others to participate every chance she gets.
Over the course of her 17+ years, she has had many experiences working in the industry. Erin explains that the ones that make the biggest impression on her are when she sees someone that used to work for her, and they take the time to seek her out to share how they appreciated their working together.
Always willing to lend a helping hand, she enjoys being in a role where she can make a difference.
Always wanting to be challenged and in a role where she can use her skills for the betterment of the company, Erin enjoys helping a property or team that may be challenged get to a successful place.