In the News - August 2023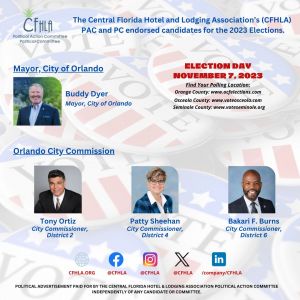 CFHLA PAC/PC Board of Directors Announces Endorsements in City of Orlando Elections
August 25, 2023
Today, the Central Florida Hotel and Lodging Association (CFHLA) PAC and PC Board of Directors announced their endorsements of four candidates who are seeking re-election in the 2023 City of Orlando elections. This includes Mayor Buddy Dyer; Tony Ortiz, City Commissioner, District 2; Patty Sheehan, City Commissioner, District 4 and Bakari F. Burns, City Commissioner, District 6.
"Mayor Dyer has consistently served as a friend of the hospitality and tourism industry for a number of years, as well as an economic catalyst for the area," said Jay Leonard, General Manager of the Wyndham Garden Lake Buena Vista Disney Springs Resort Area, and the Chairman of the CFHLA PAC and PC. "The industry is excited to endorse his candidacy, along with this effective group of pro-tourism candidates during the 2023 election cycle, as we ensure that our region remains the best place to work, play, live and visit."
Robert Agrusa, President and CEO of the Central Florida Hotel and Lodging Association went on to say, "having a mayor that is forward thinking and leaders on the City Commission that understand the importance of tourism, is important in ensuring a thriving economy for all. Each of these leaders have displayed an outstanding track record of service, are willing to face the challenges confronting the industry and are focused on providing an exceptional quality of life for the residents of our community."
The General Election will be held on Tuesday, November 7, 2023.
The Central Florida Hotel and Lodging Association's mission is to represent the Central Florida Hospitality Industry, by setting the standard of excellence through advocacy, collaboration, education, recognition, and service. As the largest regional lodging association in the United States, CFHLA represents approximately 80 percent of the more than 129,500 hotel rooms in Orange, Seminole and Osceola counties, and more than 500 "supplier" organizations that do business with the hospitality and tourism industries.
For more information on the Central Florida Hotel and Lodging Association, please visit www.cfhla.org.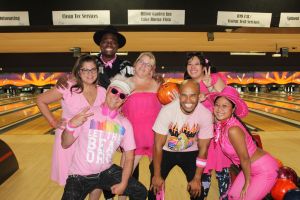 A Perfect Frame! ARC Bowling Bash Benefits Adopt-A-School Partners
August 22, 2023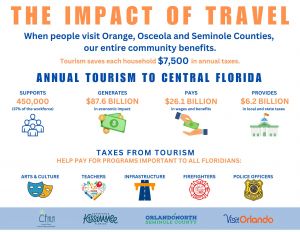 New Research Finds Central Florida's Tourism Industry Generated Record $87.6B in Economic Impact
August 21, 2023
Report by Tourism Economics shows significant increases in visitor spending, jobs and state and local tax revenue driven by tourism
Visit Orlando, Experience Kissimmee, Seminole County and Central Florida Hotel & Lodging Association released new research by Tourism Economics concluding that the Orange County, Osceola and Seminole County's travel and tourism industry generated a new all-time high total economic impact of $87.6 billion, a 31% increase over 2021.

Tourism Economics is an Oxford Economics company focused on combining an understanding of the travel sector with proven economic tools. More than 500 companies, associations, and destinations work with Tourism Economics every year as a research partner. Oxford Economics is one of the world's foremost independent global advisory firms, providing reports, forecasts and analytical tools on 200 countries, 100 industrial sectors and over 3,000 cities.

According to the report, in 2022 Central Florida's visitor spending jumped by 38% to $55.5 billion. Visitor spending surpassed pre-pandemic levels by $7.5 billion.
CLICK HERE to read the full announcement.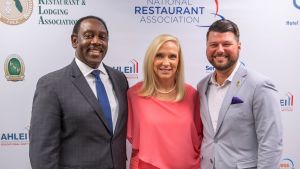 Pineapples for Education
August 9, 2023
Members of CFHLA and the Florida Restaurant & Lodging Association (FRLA) joined forces to kick off the new school year with the first-ever Pineapples for Education reception.
The evening highlighted a new partnership between CFHLA and FRLA,  which focused on building workforce development initiatives and collaborating to enhance our outreach within our local high schools. After hearing from Robert Agrusa, President / CEO of CFHLA, and Carol Dover, President / CEO of FRLA, attendees learned more about the certifications and additional training that are available through the National Restaurant Association and AHLEI to support students and current hospitality professionals who are passionate about improving their skills and growing their careers.
Thank you to all of our members who joined us for this exciting evening! We also appreciate each of our members who have dedicated their time and resources to CFHLA's Adopt-A-School and High School Outreach Programs throughout the 2022-2023 school year. We look forward to another successful year of positively impacting the students throughout Central Florida!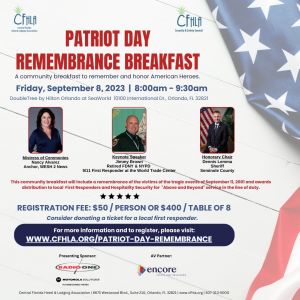 Patriot Day Breakfast
August 8, 2023
This breakfast is held each year in September to remember the tragic events of September 11, 2001 and honors Local Law Enforcement, Fire Rescue, EMS and Hospitality Security Personnel for Above & Beyond service in the line of duty.

CLICK HERE to register.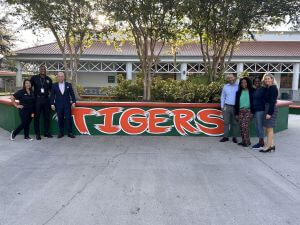 High School Outreach Partners in Action
August 3, 2023
This week, CFHLA's High School Outreach Subcommittee members partnered to provide a welcome-back breakfast to the teachers at Jones High School.

Thank you to CFHLA Board Member and High School Outreach Co-Chair, Ally Martin, General Manager of Hyatt House Orlando Airport; Jonathan Barisano, General Manager of Universal's Aventura Hotel at Universal Orlando Resort; and Benjamin McCarney, General Manager, and Sunny Tsehaye of Grand Bohemian Hotel Orlando for providing the food, beverages, and warm hospitality!

On behalf of CFHLA, we are genuinely excited for this upcoming school year and we look forward to expanding our partnership with the teachers, staff, and administration at Jones High School!