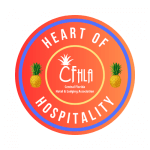 The Central Florida Tourism and Hospitality Industry is made up of nearly 400,000 talented and incredibly diverse individuals, who provide exceptional service and play a pivotal role in helping to make Central Florida the top choice for visitors to return again and again.
The uniqueness and makeup of our hospitality workforce is as diverse as the attractions and offerings in the region. In Central Florida, over 62% of the hospitality and tourism workforce identifies as either black or Hispanic, compared to just 41% on the national level.
Further emphasizing the diversity of our hospitality talent pool is that 56% of the workforce is female, while 43% of all those employed are between the ages of 23-44, both which exceed the national averages.
While there are many outstanding team members and associates who are extremely dedicated to this industry, these professionals represent some of the best and most exceptional service providers throughout Central Florida. This includes front-line employees to mid-level managers to executive level positions.
Here are some of their stories, as they are truly the "Heart of Hospitality."
Do you know someone that is the "Heart of Hospitality" and should have their story shared? If so, please email us at communications@cfhla.org.
CLICK HERE to read the Heart of Hospitality Initiative Press Release.