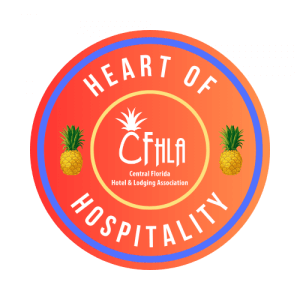 Olga Mendez
Walt Disney World Swan Reserve Hotel
Say hello to Olga Mendez, a room attendant at the Walt Disney World Swan Reserve Hotel and our latest CFHLA Heart of Hospitality profile.
A member of the resort team since 2018, she started as a room attendant, before being promoted to training room attendant, where she oversees the training of the new hires and the onboarding of new Cast Members. She is also one of the VIP Room Attendants, taking care of all the VIP guests in house for groups and their upper-level VIP's.
Olga always makes herself available wherever needed, such as inspecting rooms and setting the team up for success. She is the ultimate room attendant role model when it comes to her cleanliness score, finishing on time and meeting all expectations.
Since the opening of the Reserve, she has been instrumental in guiding new Cast Members and overseeing that all rooms are up to standard. In fact, the cleanliness score for her section has exceeded corporate expectations. In addition, she is also part of the General Management Council (a council team of Cast Members hand selected by leadership at the resort).
One of the friendliest and most outgoing Cast members, Olga has proven to be a committed resource and advocate for the housekeeping team. She greets everyone with a smile each morning and ensures that everyone has what they need to accomplish their tasks.
The Stars of Excellence Award is the top award given to hourly Cast Members at the resort and it recognizes those that excel, embedding all the values of the Swan and Dolphin and Swan Reserve. Olga is a two-time Stars of Excellence winner, earning one at the Swan and Dolphin and the other at the Swan Reserve.
Outside of work, Olga enjoys spending time with her family. She also teams up with other employees from the resort to set up community events, as she is always making sure that everyone around her is taken care of.