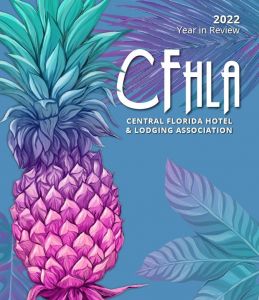 CFHLA 2022 Year in Review Now Available in Print and Digital Editions
May 25, 2023
This week, the Central Florida Hotel & Lodging Association was proud to unveil our BRAND-NEW 2022 YEAR IN REVIEW MAGAZINE!
This digital and printed publication highlights the accomplishments of the Association over the past year, including our significant membership growth, increased advocacy on behalf of the industry, recaps of our signature events, and our positive impact within the Central Florida community.
Printed editions of the publication will be available at all future CFHLA meetings and events, including next week's May Board of Directors Meeting and After Hours event.
Members are also invited to stop by the CFHLA offices to pick up a copy!
Thank you again to all of our sponsors for your generous support of this new annual publication and please be sure to view and share the digital version with your team members!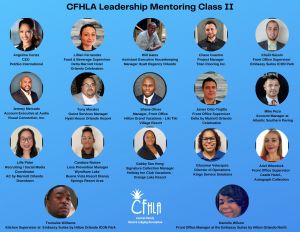 CFHLA Welcomes The Leadership Mentoring Program, Class II
May 19, 2023
CFHLA is proud to announce the selection of 17 mentees and 30 mentors, who will participate in CFHLA's Leadership Mentoring Program, Class II.
Each of these individuals represent our up-and-coming diverse and future leaders of the hospitality industry throughout Orange, Osceola, and Seminole County.
This year, the program has now doubled in size and each participant will be mentored by at least two industry professionals throughout the year. Congratulations again to this year's participants and CLICK HERE to learn more about this year's Class!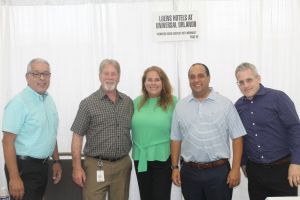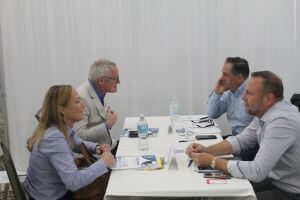 CFHLA Hob Nob
May 17, 2023
On Wednesday, May 17th, CFHLA hosted our annual Hob Nob at the DoubleTree by Hilton at the Entrance to Universal Orlando (Thank You, Jason Lopez, General Manager).
This Reverse Tradeshow provided more than 350 CFHLA Allied and Lodging Members with the opportunity to meet one-on-one for numerous three-Minute "speed meetings" throughout the day.
Thank you again to all of our sponsors, members, and the representatives from the 63 properties who supported us for this fantastic annual networking event!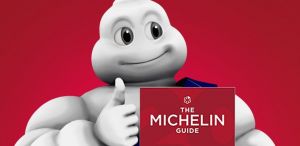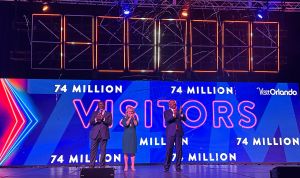 Orlando Visitation Tops 74 million
May 11, 2023
Our partners at Visit Orlando took the opportunity at this year's Travel & Tourism Luncheon to announce that in 2022, 74 million visitors were welcomed to the region.
Last year's total surpassed 2021 by 15 million visitors as the region rebounded to its pre-pandemic levels of 2019, making Orlando the number-one destination yet again.
Congratulations to the team at Visit Orlando and everyone in the hospitality industry on this incredible accomplishment!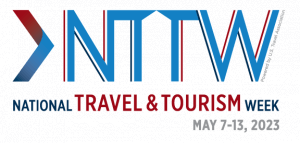 Travel & Tourism Week Proclamations
May 10, 2023
The Central Florida Hotel & Lodging Association (CFHLA) was proud to receive proclamations from the Seminole County Government, Osceola County Government and Orange County Government, as we distributed pineapples — the official symbol of hospitality — to representatives from each county.
Central Florida is the most visited destination in the United States, with more than 74 million visitors and in excess of $75 billion in economic impact, which supports 41 percent of the workforce.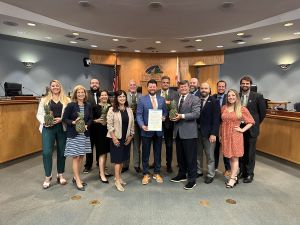 Did you know that in 2022, Seminole County surpassed Tourist Development Tax projections by 45%, and hotel occupancy rates increased by 18%, demonstrating a significant rebound in the hospitality industry?
Last year Seminole County hosted 97 sporting and athletic events at the Boombah Sports Complex, Soldiers Creek Park & Sylvan Lake Park, which generated $65 million in total economic impact for the county!
Thank you Do Orlando North for your partnership with CFHLA and our members, and we look forward to the continued growth of the tourism industry moving forward!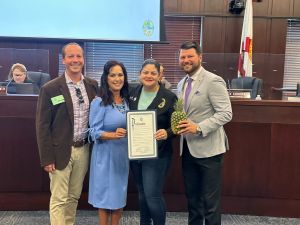 Did you know that tourism is the largest industry in Osceola County, generating over $5.5 billion per year in economic impact and is responsible for over 45,000 jobs?
Osceola County's official tourism association, Experience Kissimmee, serves more than 1,000 industry and community partners, including more than 55,000 overnight accommodations within the county.
Thank you to Experience Kissimmee for your partnership, and we look forward to seeing the tourism industry continue to surpass expectations and provide economic growth!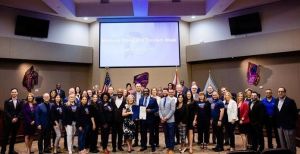 Orange County Mayor Jerry L. Demings and our partners at Orange County, Florida Government issued the proclamation to CFHLA President/CEO Robert Agrusa, along with Visit Orlando President & CEO Casandra Matej.
Did you know that Orlando is the most visited destination in the world, with more than 59 million visitors annually?
Tourism within Orlando generates $67.1 billion in economic impact annually, supporting 31% of the workforce, with the Orange County Convention Center contributing $3 billion in economic impact each year.
Through our partnerships with other local stakeholders, the tourism industry thrives and provides significant economic growth!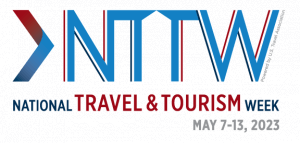 Travel & Tourism Week Marks 4oth Anniversary
May 5, 2023
Next week, May 7-13, 2023, marks the 40th anniversary of National Travel and Tourism Week (NTTW). Travel is integral to every industry and nearly everything we do. Our recovery is the nation's recovery, and travel is essential to a future of American growth and innovation.
Established in 1983, (NTTW) is an annual tradition to celebrate the U.S. travel community and travel's essential role in stimulating economic growth, cultivating vibrant communities, creating quality job opportunities, inspiring new businesses and elevating the quality of life for Americans every day.
Travel serves as a catalyst for a productive U.S. economy and helps power the success of other industries. The U.S. travel industry generated a $2.6 trillion economic output in 2022 and supported 15 million jobs, fueling communities, small businesses and working families across the country.
Travel spending also generated nearly $160 billion in federal, state and local taxes in 2022—revenue that helped fund critical public services while saving each U.S. household an average of $1,270 in taxes.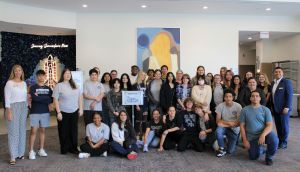 Celeste Hotel Orlando plays host to Lake Howell High School Students
May 3, 2023
Under our new five-year strategic plan, our Central Florida Hotel & Lodging Association High School Outreach Subcommittee recently hit a new milestone.
Last week, our lodging member - The Celeste Hotel Orlando, a Tribute Portfolio Hotel - partnered with Seminole County Public Schools and Lake Howell High School's Culinary Program for a student field trip to their property!
This is significant because this was the first time CFHLA had coordinated a student field trip from Seminole County to one of our member properties!
Nearly 40 Lake Howell students spent the morning touring Celeste's guest rooms, meeting spaces, kitchen, and restaurant. Then the students had the opportunity to ask the hotel executive team about their careers path and future job opportunities.
Thank you, CFHLA Board Member, General Manager Joe Delgado, and Director of Sales Sarah Ehmke, for your excellent leadership on this important initiative and for giving these students a behind-the-scenes look at your hotel!
By working with our educational partners, we can showcase our industry as an inclusive work environment that attracts, retains, and develops a talented, energized, and diverse workforce.