In the News - September 2023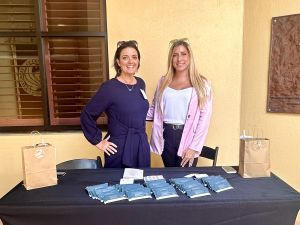 Hyatt Meet & Greet at UCF Rosen
September 20, 2023
With the 2023 - 2024 school year in full swing, so are the UCF Rosen College of Hospitality Management Meet & Greets!
This year, CFHLA has partnered with UCF Rosen College to host six different opportunities for students to speak with General Managers and leaders from the Events, Sales, Food & Beverage, and Human Resources departments about what it's like to work in hotels/resorts and what future career paths might be available.
Thank you to all of the leaders from Hyatt House Orlando / International Drive, Hyatt Place Orlando Airport, Hyatt Regency Grand Cypress, Hyatt Regency Orlando, and Hyatt Regency Orlando International Airport and the more than 100 students, who participated in the first meet and greet of the Fall Semester on Wednesday, September 20.
Also, thank you so much to our CFHLA member properties for donating gift certificates to the first raffle for this event and congratulations to the seven student winners! We are so excited about the rest of the meet and greets that will take place throughout the 2023 - 2024 school year!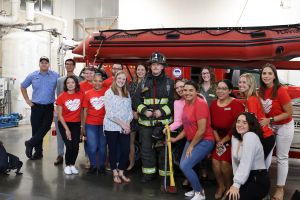 Thank You to All Our Adopt-A-Station Participants
September 15, 2023
Thank you to the more than 60 Members and community partners who participated in the Adopt-A-Station initiative, as part of our 2023 Patriot Day Remembrance Breakfast, last week.
Each year, in honor of Patriot Day, CFHLA has encouraged our Members to Adopt-A-Fire or Police Station in their neighborhood, honoring our local first responders, by donating meals to different stations.
To view photos of our Member's generosity, please CLICK HERE, while a video by Orange TV of the Patriot Day Remembrance Day Breakfast, can be viewed by clicking HERE.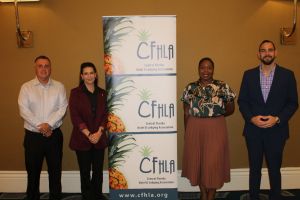 Allied Relations Council Brekfast
September 12, 2023
On Tuesday, September 12, CFHLA hosted its September Allied Relations Council Meeting and Breakfast at the Sheraton Lake Buena Vista Resort (Thank You Colin Mills, General Manager).
With more than 100 members in attendance, attendees enjoyed breakfast and had the opportunity to hear from a panel of Members representing four different Vacation Ownership properties. Attendees also learned about potential upcoming projects at each of these properties, as well as hearing stories about the panelists experiences within the hospitality industry.
The panel, which was moderated by ARC Chair, VIP Member, and CFHLA Board Member Erin Sims of Landform of Central Florida, included Jaret Della Porta, General Manager, Marriott's Harbour Lake Resort; Sagine Delly, General Manager, Grand Beach Resort; Sonja Giselbrecht, General Manager, Bluegreen Vacations - The Fountains Resort; and Ray Miller, General Manager, Las Palmeras by Hilton Grand Vacations.
CFHLA would also like to thank AV Media for providing their services for the meeting, as well as our 2023 Allied Relations Council Breakfast Sponsor, Wealth Management Strategies of Central Florida/Equitable Advisors, for supporting "Members Doing Business With Members!"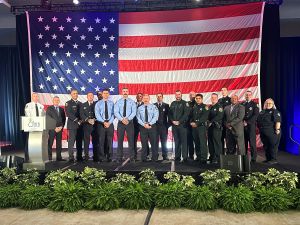 Patriot Day Remembrance Breakfast
September 8, 2023
On September 8, CFHLA hosted our annual Patriot Day Remembrance Breakfast at the DoubleTree by Hilton Orlando at SeaWorld (Thank you Joe Cardone, General Manager).
The event, which was sponsored by Radio One - A CSE Crosscom Company -  welcomed over 500 attendees, including 180 first responders.
This breakfast honors the memories of those who were lost or affected due to the tragic events of September 11, 2001. In addition, CFHLA recognized the heroism of our local police, EMS, and fire rescue, as well as hospitality security personnel for their service and actions above and beyond in the line of duty.
This year we were honored to welcome Jimmy Brown, NYPD and FDNY retired, as our guest speaker and Nancy Alvarez of WESH-2 News as our Mistress of Ceremonies.
A complete video from today's Remembrance Breakfast will be available by clicking HERE, courtesy of our partners at Orange TV. Check out the PHOTO ALBUM from the day.
Please join us in congratulating the following Central Florida First Responders and Hospitality Security Personnel that were honored and recognized at today's event:
Heroism Award - Fire Rescue/EMS
(Orange County Fire Rescue)
Captain Troy Broadaway
Lieutenant Steven Parkes
Engineer Nathan Ward
Engineer Christopher Zambito
Firefighter Ramiro Cipullo
Firefighter Juston Jones
Firefighter Julius Odom
Firefighter Daniel Ronan
Firefighter Neal Stanley
Firefighter Ryan Wall
Heroism Award - Law Enforcement
(Orange County Sheriff's Office)
Corporal John Kirkland
Deputy Peter Callin
Deputy Eddie Cruz
Deputy Paul LeCompte
Distinguished Service Award
Corporal John Kirkland
(Orange County Sheriff's Office)
Lieutenant Benjamin Wootson II
(Orlando Fire Department)
Life Saving Award - Law Enforcement
Officer Omar Valle-Torres
(Ocoee Police Department)
Life Saving Award - Fire Rescue / EMS
(Seminole County Fire Department)
Lieutenant Paul Hammerl
Lieutenant Ryan Hart
Firefighter Jackson DeCuir
Firefighter Rick Montejano
Firefighter Steven Schwartz
Angela Bass
(Seminole County Sheriff's Department)
Deputy Douglas Mactye
Life Saving Award - Hospitality
Michael Gifford
(Signia by Hilton Orlando Bonnet Creek & Waldorf Astoria Orlando)

Lifetime Achievment
Lieutenant James Napler
(Kissimmee Police Department)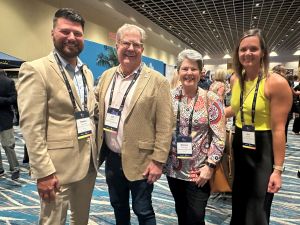 Florida Governor's Conference on Tourism
September 6, 2023
Thank you, VISIT FLORIDA, for inviting our President/CEO Robert Agrusa and Senior VP of Membership and Industry Relations Erin Walsh to the 2023 Florida Governor's Conference on Tourism.
The annual Florida Governor's Conference on Tourism (GC), is the premier educational conference for the Florida tourism industry, was held in Orlando this past week.
The conference brings together close to 1,000 tourism industry professionals, advertising agencies, travel experts and state leaders to network and to explore the latest trends and opportunities for the tourism industry.
The conference provides significant value to the industry which elevates the ability of tourism industry leaders to drive change and serve Florida's visitors. The goal is for attendees to leave the Florida Governor's Conference on Tourism with tangible takeaways about latest trends, opportunities, and actionable strategies for challenges in addition to new connections and growth opportunities.
Thank you to our partners at Visit Orlando and Experience Kissimmee for your hospitality, and it was great to catch up with Visit Florida President/CEO Dana Young, too!
Enter the Cosmic Universe at the HEAT Tradeshow
September 1, 2023
Last week, CFHLA invited our members and hospitality professionals to enter the Comic Universe at the 2023 HEAT TRADESHOW at the Gaylord Palms Resort & Convention Center (thank you Johann Krieger, General Manager).
This year's tradeshow featured over 200 exhibitors, which provided our lodging members with the perfect opportunity to learn more about the wide array of products and services that are available for the hospitality industry!
In addition, hundreds of attendees had their mouths watering, as we were thrilled to have eight member properties showcasing their top culinary skills and fantastic dishes, during this year's Ultimate Chef Competition!
Thank you again to all of our lodging attendees who stepped into the pages of some classic comics and visited us throughout the day and thank you to all of our Allied Members for their fun and engaging exhibit booths.
CLICK HERE to view photos from HEAT or HERE to see our recap video.