In the News - February 2023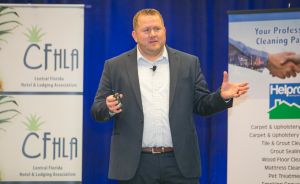 STR Membership Breakfast and Seminar
February 23, 2023
On Thursday, February 23rd, CFHLA hosted our annual STR Membership Breakfast and Seminar at the Wyndham Orlando Resort International Drive (thank you Carl Rodgers, General Manager).
This informative and in-depth breakfast featured a presentation by Shawn Grenley, Sales Executive, Florida and Georgia - STR, covering topics relating to Lodging Occupancy Levels throughout 2022 and Industry Projections for the entire U.S., Florida and Central Florida in 2023 and beyond.
The presentation also highlighted the fact that the U.S. market has generally returned to pre-pandemic occupancy and ADR levels. This includes the Orlando market, which is showing a positive pace toward recovery and surpassing pre-pandemic levels for most of 2022.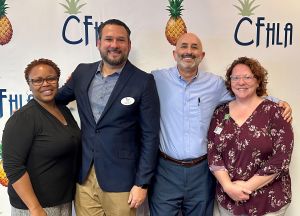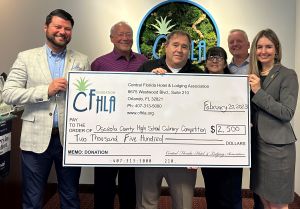 CFHLA Sponsoring Osceola County High School Culinary Competition
February 20, 2023
CFHLA is excited to be one of the sponsors for the inaugural Osceola County High School Culinary Competition taking place on April 6th at the Wyndham Orlando Resort & Conference Center Celebration!
Local culinary students will have the opportunity to showcase their skills and prepare for state-level competitions.
On Monday, February 20th, Robert Agrusa, President & CEO, Melanie Anesh, Director of Strategic Initiatives and Partnerships, and CFHLA Board member Glen Vlasic of Wyndham Orlando Resort & Conference Center Celebration presented Dr. Jeff Arnott, Executive Director, Joe Trybus, Resource Specialist, and Pat Breeding, Consultant, for the School District of Osceola County with a $2,500 check from the CFHLA Foundation, in support of the upcoming competition.
We are excited to continue grow our partnership with Osceola County, as we help the next generation of students develop the skills necessary for a future career in Central Florida's Hospitality Industry!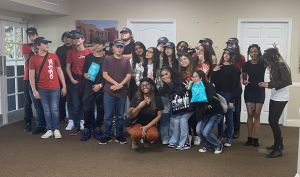 Vacation Ownership Council - Orange County Public Schools Site Visits
February 16, 2023
On Thursday, February 16th, students from seven Orange County Public Schools took part in coordinated site visits to six CFHLA Vacation Ownership properties.
In addition to touring the resorts and learning about the industry, students had the opportunity to learn about the many different departments that comprise a successful property and hear from industry professionals.
Thank you to our Members, Cypress Point Resort, Hilton Grand Vacations Club SeaWorld, Holiday Inn Club Vacations - Orange Lake Resort, Westgate Vacation Villas, Grand Beach Resort and Hilton Grand Vacations Tuscany Village for hosting these informative visits.
Participating schools included, Oakridge High School, Orange Technical College South, Horizon High School, Windermere High School, Olympia High School, Freedom High School and Colonial High School.
If you are interested in hosting a school site visit in the future, please contact Melanie Anesh at melanie.anesh@cfhla.org.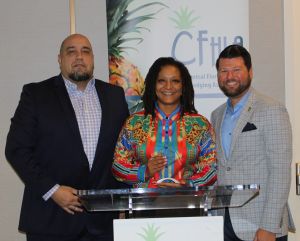 Security & Safety Council Service Award
February 15, 2023
This week, the Central Florida Hotel & Lodging Association was proud to award Felicia Hope, a one-and-half-year Sheraton Vistana Villages Safety and Security Department member, with the first CFHLA Security & Safety Council Service Award of 2023.
Last November, Felicia responded to one of the resort's villas where she encountered an unconscious female being administered CPR.
Recognizing the urgency, she immediately began to activate the AED, assisted by another member of the resort's team who had arrived on the scene. The AED analyzed and announced that a shock was needed; without hesitation, Felicia told everyone to stand clear and took control of the situation.
Shortly after that, the Orange County Fire Department arrived and began to assess the guest. The paramedics determined that she had a weak pulse due to Felicia's quick response and action. The guest was then transported to the Emergency Room for additional treatment.
Thank you, Felicia, for your quick response and keep up the excellent work! We are very grateful for your leadership at the resort by keeping its guest/owner(s) and fellow associates safe and well! Congratulations!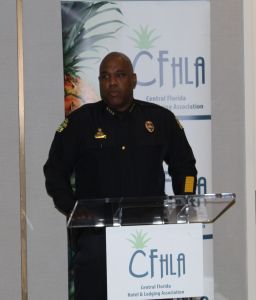 Members Meet the Chief
February 15, 2023
On Wednesday, February 15th, the CFHLA Security & Safety Council held a "Meet the Chief," event with Orlando Police Chief Eric Smith.
Thank you Chief Smith for your leadership and for partnering with the tourism and hospitality industry, in order to keep our community and visitors safe!
Lastly, we'd like to thank The Mall at Millenia for graciously hosting this important meeting.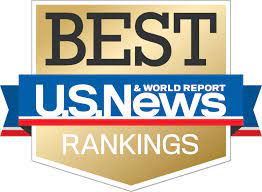 CFHLA Lodging Members Included in U.S. News & World Report Best Hotel Rankings
February 9, 2023
Congratulations to our CFHLA Lodging Members who were recently honored as part of the U.S. News & World Report lists of the Best Hotels and Resorts in Florida!
The Four Seasons Resort Orlando at Walt Disney World Resort was chosen as the #1 hotel in the category of Best Hotels in Walt Disney World and Best Resorts in Walt Disney World, which is the ninth consecutive year they took home the honor.
In addition to being ranked Best Hotel and Best Resort in Walt Disney World, the Four Seasons Resort Orlando was also named as the #6 Best Resort in Florida and #14 Best Hotel in Florida.
Three additional CFHLA Member properties were chosen as part of the Top 25 Best Florida Resorts category, they include: #8 The Ritz-Carlton Orlando, Grande Lakes, #18 The Alfond Inn at Rollins, #20 Disney's Grand Floridian Resort & Spa.
Also included in the Top 25 Hotels in Florida list are CFHLA Members, #16 Waldorf Astoria Orlando, and #17 The Ritz-Carlton Orlando, Grande Lakes.
Congratulations to all of these outstanding properties!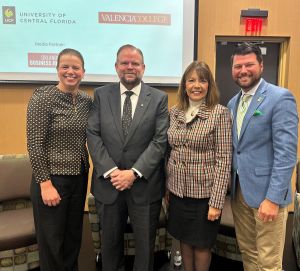 Working Together to Ensure a Skilled Workforce for Central Florida's Future
February 7, 2023
On Tuesday, February 7th, our CFHLA President/CEO Robert Agrusa participated in a regional Workforce Summit sponsored by our partners at CareerSource Central Florida, UCF and Valencia College.
We appreciate the opportunity to discuss how education and the business community could work better together, to ensure the demands for skilled workers within the hospitality industry and other business sectors will be met over the next decade and beyond.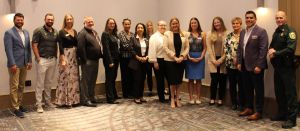 UCF Area Hoteliers Luncheon 
February 7, 2023
On Tuesday, February 7th, the UCF Area Hoteliers held their first luncheon of the year at the The Celeste Hotel, Orlando, a Tribute Portfolio Hotel (Thank You Joe Delgado and Sarah Ehmke).
This meeting featured an update on UCF Athletics from SJ Tuohy, Associate Director for Football and Chief of Staff, UCF Football.
Thank you SJ for taking the time to join us and we are looking forward to the Knights Big XII debut this fall!
CFHLA would also like to thank Landform of Central Florida for serving as the 2023 meeting sponsor!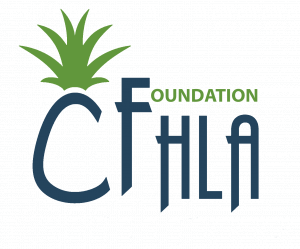 CFHLA Student and Family Member Scholarships
February 2, 2023
The CFHLA Foundation is now accepting applications for the 2023 Hospitality Student and Family Member Scholarships.
If you or someone you know is interested in applying, please click on the links below for additional information.
Also, be sure to share these opportunities with your team by downloading the flyers (using the links below) and posting them at your property and/or business.
FAMILY MEMBER SCHOLARSHIP FLYER

FAMILY MEMBER SCHOLARSHIP FLYER (SPANISH)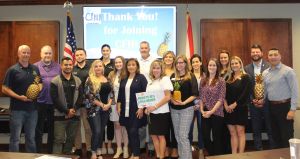 Welcome New Members
February 2, 2023
On Wednesday, February 1st, CFHLA welcomed the following 15 Member businesses to the Association at our first New Member Orientation of 2023.
Mike Pezo
Atlantic Southern Paving and Sealcoating
Erica Mand
Brightview Landscape Services
Christopher Busick
Creative Colors International 
Hollie McCall
DBK, Inc.
Olivia Desormey, Sagen Anderson
GravyWork
Karen Weiss, Lyndsay Fogarty
McCoy Federal Credit Union
Derek Ryan
Omegascapes, Inc.
Misti Spencer
Reflections and Impressions, LLC
Keith Kalm
Jessica Aksu
T&G Constructors
Daniela Leon
Three Lions Investment Group
Chase Guarino
Titan Flooring
Maria Victoria Betancurth
United Maintenance Company, Inc.
Richard Zayas
United States Security Services, Inc.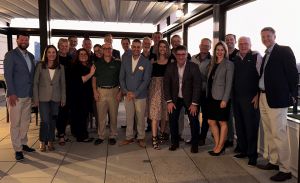 Scholarship Committee Reception
February 1, 2023
The final meeting and reception for the 2023 Scholarship (formerly MVP) Committee took place on Tuesday, January 31st at the Hyatt Regency Grand Cypress!
Thank you, Paul Joseph, General Manager and Vice-Chair of the Scholarship Committee, and his entire team for your hospitality and for providing such a wonderful reception in appreciation of the fundraising efforts of the 2023 Scholarship Committee Members.
This year 24 Scholarship Committee Members secured a minimum of $1,500 each in monetary and/or auction donations for the CFHLA Gives Program, which raises money for Hospitality Student Scholarships and Educational Grants. These funds will help support the scholarships and educational grants that will be announced at the CFHLA Gives Luncheon on April 20, 2023.
Lastly, we would like to thank and recognize the 2023 Committee Chair, John McCracken General Manager of Marriott Village Orlando for his incredible leadership and support of this program!
Thank you to our 2023 Scholarship Committee members for their incredible generosity and support for the future leaders of hospitality, including:
David Baird
Vermana
Jackie Bozzuto
Lowndes
Kevin Cedik
The Mall at Millenia
Beatriz Dominguez
Clean Tec Services
John Gill
Premier Oracle Elevator
Matt Grier
Greenery Productions 
Michael Hanley
Wealth Management Strategies

George Haq
B&H Towels and Linens
Colleen Hazen
System Tech Services, Inc.
Barbara Kenney
Kenney Communications
David Lindsey
FPIS
Glen Lyons
ATMFLA
Stefanie Mizrahi
Addition Financial 
Luis Rivera
Clean Tec Outsourcing
Louis Robbins
Former CFHLA Chairman
Lou Rocco
Global Sourcing International, LLC
Kyle Salinsky
Minuteman Press|
Erin Sims
Landform of Central Florida
Cindy Traenkner
Domino's 
Sean Verney
Walt Disney World Swan & Dolphin Resort 
Steve Vinciguerra
SeaWorld Parks & Resorts 
Jody Walker
Acentria Insurance