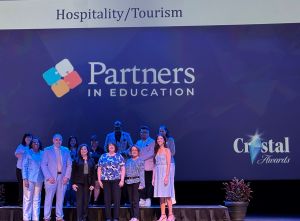 OCPS Crystal Awards
March 31, 2023
On Friday, March 31st, Orange County Public Schools held their annual Community Outreach Recognition Event - the Crystal Awards at SeaWorld Orlando!
Each year, OCPS recognizes outstanding coordinators, school volunteers, and business partners for their contributions that impact student success.
Thank you to award presenters Theresa Jacobs, Chair of the Orange County School Board; Pam Carson, Assistant Director District Foundation and Community Outreach · Orange County Public Schools; Pam Gould, Orange County School Board District 4; Alicia Farrant, Orange County School Board District 3; Scott Howat, Chief Communications Officer, President of the Foundation Orange County Public Schools and Maria Vasquez, Superintendent of Orange County Public Schools
CFHLA would like to congratulate the following Members for being recognized on stage for their partnerships and continuing support of our local educational institutions!
Evermore Resort - Millennia Gardens Elementary School
Grand Bohemian Hotel Orlando - Jones High School
Hampton Inn and Suites Orlando Airport - Little River Elementary
Helpro Cleaning Services - Memorial Middle School
Universal Orlando Resorts - Alternative Education Center
Welbro Building Corporation - Riverside Elementary School
The Celeste Hotel - Riverdale Elementary School
Hilton Garden Inn Lake Buena Vista/Orlando - Sand Lake Elementary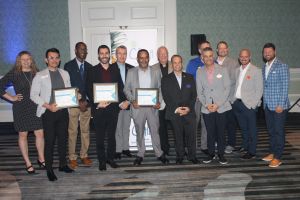 Leadership Mentoring Applications Now Available 
March 31, 2023
Applications for this year's Leadership Mentoring Program are now open!
This program is open to CFHLA Allied and Lodging members and provides a diverse group of mid-level leaders the opportunity to develop transferable leadership skills.
If you, or someone you know, is interested in participating in this year's program, please complete the APPLICATION by Friday, April 28th.
For more information on the Leadership Mentoring Program, please contact Melanie Anesh at melanie.anesh@cfhla.org.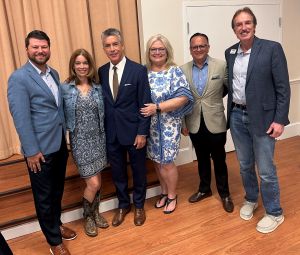 The Lifeboat Project Luncheon
March 30, 2023
On Thursday, March 30th, CFHLA President & CEO Robert Agrusa spoke at The Lifeboat Project's Making Waves Luncheon. Robert spoke about the collective efforts of Central Florida's hospitality community in raising awareness and educating employees on how to identify the signs of human trafficking and our partnership with the Lifeboat Project.
This luncheon brings community members and organizations together to raise funds and support the Lifeboat Project's Vision of a community that is educated on the dangers of human trafficking and the needs of its survivors.
Other speakers included Tim McKinney, CEO & Founder, United Global Outreach; Angela Jackson, President & Founder, Heartland Haven Foundation and Jill Cohen, President/CEO & Founder, The Lifeboat Project, Inc. Jim Payne of WESH-2 NEWS served as the Master of Ceremonies.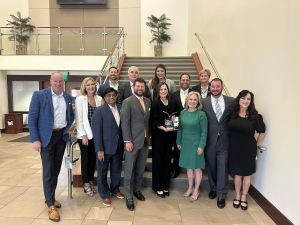 CFHLA at Florida Tourism Day
March 22, 2023
This week, CFHLA met in Tallahassee for Florida Tourism Day, in partnership with industry leaders and professionals from across the state. It was an extremely productive and informative couple of days as we met with our Legislators from across the state to discuss our priorities and how crucial it is to support Florida's No. 1 industry.
We also educated the legislature, media and all Floridians about the importance of Florida's tourism industry and the positive economic impact of tourism to Florida and its residents.
In addition, we had the opportunity to hear from Florida's Chief Financial Officer Jimmy Patronis, Visit Florida's President/CEO Dana Young, DBPR's Secretary Melanie Griffin, Florida's Attorney General Ashley Moody and Governor DeSantis' Chief of Staff James Uthmeier.

Furthermore, Visit Florida's CEO Dana Young spoke with us regarding the future funding for Visit Florida. After Governor DeSantis originally proposed funding the organization with $100 million for the FY 2023-2024, the Senate proposed $80 million in funding this week, with $30 million recurring. However, the House countered with zero funding for Visit Florida. With this news, our industry rallied the capitol and will be actively pursuing this funding that is crucial to the success of our state and local communities. CFHLA will continue to monitor this issue closely and will keep you informed on its progression throughout the legislative process.
CLICK HERE to view photos from Florida Tourism Day.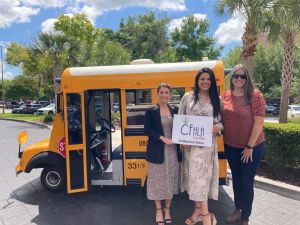 CFHLA Cares collection Drive
March 21, 2023
CFHLA will be holding a collection drive for students in need on Thursday, April 20th, from 10am - 2pm at the Hilton Orlando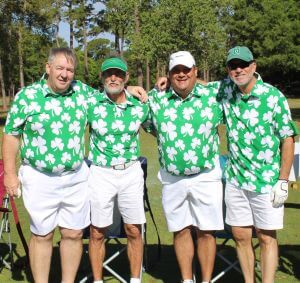 St. Patrick's Day Golf Open
March 17, 2023
On Friday, March 17th, Irish eyes were smiling as CFHLA hosted our annual St. Patrick's Day Golf Open at the Rio Pinar Golf & Country Club.
Taking advantage of a terrific spring day, 144 golfers took to the links interacting with the creative hole sponsors, while enjoying a classic Orlando layout.
Thank you to all those who participated and supported this signature CFHLA event!
CLICK HERE to view photos from the event.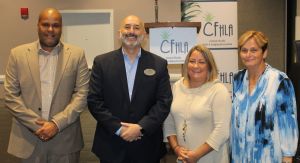 ARC Breakfast
March 14, 2023
On Tuesday, March 14th, CFHLA held its second Allied Relations Council Meeting and Breakfast of the year.
The event was held at the Avanti Palms Resort and Conference Center (Thank you Duane Dickson, General Manager). Also, we'd like to thank Absolute AV for their services at the event.
In addition to enjoying a tasty breakfast, members had the opportunity to hear from a panel comprised of newly elected CFHLA Board Members.
The discussion panel, which was moderated by ARC Chair, VIP Member, and CFHLA Board Member Erin Sims of Landform of Central Florida, Inc., included: Abed Ereikat, General Manager, Hilton Grand Vacations at SeaWorld; Steven Hollis, General Manager, Fantasy World Resort; and Michelle Logel, General Manager, Hyatt Place Orlando I-Drive/Convention Center.
The panel spoke about their careers in the hospitality industry, and provided updates on their respective properties.
CFHLA would also like to thank the 2023 Allied Relations Council Breakfast Sponsor, Wealth Management Strategies of Central Florida, for their support of "Members Doing Business With Members!"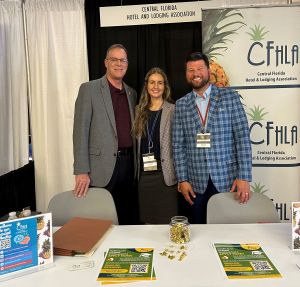 UCF Rosen Career Fair
March 8, 2023
On Wednesday, March 8th, the UCF Rosen College of Hospitality Management hosted its largest career fair yet, with more than 1,000 students attending the event. In total, 109 industry partners and employers came to the campus to recruit students and alumni, as they begin their hospitality careers in the workforce.
Additionally, students from three Central Florida High Schools attended this year's career fair and toured the campus! Thank you to our partners at UCF Rosen College for supporting this incredible opportunity for our local students from Horizon High School, Olympia High School, and Freedom High School to learn more about career paths in hospitality and the educational opportunities at the college.
CFHLA was proud to serve as a sponsor for the career fair, along with our members Marriott Vacations Worldwide and Universal Orlando Resort, which was dubbed Vegas Knights.
In recent years, UCF Rosen College began hosting more career fairs, with 1,000 students currently in paid internships, as a result of these offerings and other networking opportunities at the college, as the demand increases for hospitality workers in the entertainment and media industry, which in 2020 was estimated to be worth $660 billion in the U.S.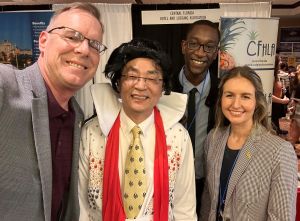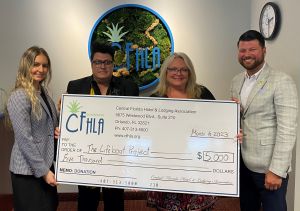 CFHLA Foundation Makes Donation to Lifeboat Project
March 6, 2023
CFHLA President/CEO, Robert Agrusa and Director of Strategic Initiatives and Partnerships, Melanie Anesh, were proud to present Founder & CEO Jill Bolander and Director of Administration & Compliance, Scotty Collins of The Lifeboat Project a check for $5,000 on behalf of our CFHLA Foundation.
This donation was a result of all proceeds raised at the Human Trafficking Awareness luncheon, that CFHLA hosted in partnership with The Lifeboat Project back in January.
The mission of The Lifeboat Project is to raise awareness of the issue of human trafficking and to empower the lives of survivors through long-term aftercare, residential programs, trauma counseling, housing, personal development, and educational resources.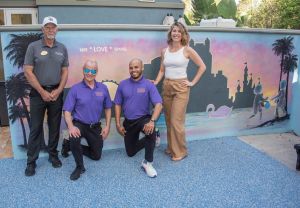 Partners In Action
March 6, 2023
The CFHLA motto is "Members Doing Business with Members." In a perfect example of actions speak louder than words, CFHLA Board Member, Les Harris, of the Homewood Suites by Hilton Lake Buena Vista - Orlando, recently refinished its outdoor basketball court, which was done by CFHLA VIP Member Danny Rogers and the team at Vulcan Surfacing, Inc.
To further enhance their guests' experience, the lodging property also had a mural painted next to the court, which was beautifully done by Colleen Hazen, who is a marketing executive for VIP Member, System Tech Services, Inc.
Once the work was complete, the group happily put their skills to the test on the new court.
Thank you for putting our CFHLA Motto into practice!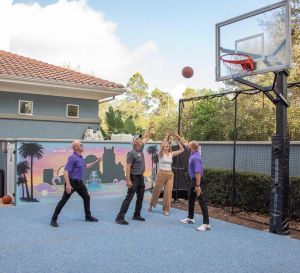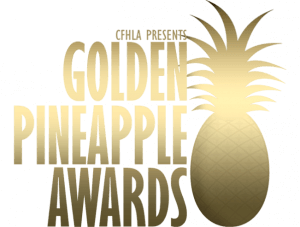 CFHLA Announces the 2023 Golden Pineapple Award Winners
March 3, 2023
On Thursday, March 2, 2023, at the Hyatt Regency Orlando, the Central Florida Hotel & Lodging Association (CFHLA) hosted its annual Golden Pineapple Awards dinner and celebration.
This year, CFHLA recognized over 280 "front line" and management/supervisor employees from 70 different Central Florida lodging properties, for their exemplary service and outstanding customer satisfaction throughout 2022.
Additionally, George Waldenberger of WFTV 9, served as the emcee for the event, which attracted nearly 1,100 attendees.
Throughout the evening, CFHLA recognized and honored the following fifteen hospitality employees, as the winners for each of the designated categories.
The 2023 Golden Pineapple Award winners include:
Outstanding Back Office Employee of the Year
Debra Williams, Sheraton Vistana Resort
Outstanding Bell Person/Concierge Employee of the Year
Abdellah Falous, Wyndham Orlando Resort International Drive
Outstanding Community Service Employee of the Year
Lisandra Rivera, Holiday Inn Club Vacations - Orange Lake Resort
Outstanding Convention Center/Banquet Employee of the Year
Eduardo Rodriquez, Renaissance Orlando at SeaWorld
Outstanding Culinary Employee of the Year
Enrique Gonzalez, DoubleTree by Hilton Orlando at SeaWorld
Outstanding Engineering Employee of the Year
Jose Alvarez, Embassy Suites by Hilton Orlando International Drive ICON Park
Outstanding Food & Beverage Service Employee of the Year,
Luis Nunez, Four Seasons Resort Orlando at Walt Disney World Resort
Outstanding Front Office Employee of the Year
Angelo Moncayo, Holiday Inn Orlando International Airport
Outstanding Housekeeping Employee of the Year
Christina Derival, Universal's Aventura Hotel
Outstanding Laundry Employee of the Year
Alix Escalante, Sheraton Suites Orlando Airport
Outstanding Recreational Employee of the Year
Christopher Quinonez, Walt Disney World Swan and Dolphin Resort
Outstanding Security/Loss Prevention Employee of the Year
Vanessa Fleurilien, Sheraton Vistana Villages
Outstanding Steward/Dishwasher Employee of the Year
Nairobe Chirinos, Hyatt Regency Orlando
Outstanding Back of House Management Employee of the Year,
Jennifer Olivo, Springhill Suites Lake Buena Vista South
Outstanding Front of House Management Employee of the Year,
Farrah Strickland, The Grove Resort & Spa
CLICK HERE to view the profiles of our winners.
CLICK HERE to view 2023 awards dinner photographs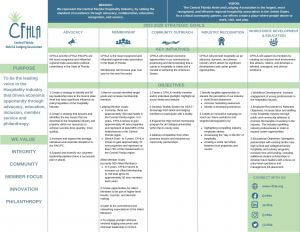 CFHLA Unveils New Five-Year Strategic Plan
March 2, 2023
This week, the Central Florida Hotel & Lodging Association released its brand new five-year strategic plan for the organization.
After a fifteen-month process, which included countless hours of discussion, and feedback from our CFHLA members, hospitality and tourism stakeholders, elected and community leaders, the CFHLA Board of Directors approved the brand new five-year strategic plan in late January. This was the first time in more than a decade, that a strategic plan was created and approved by the CFHLA Board of Directors, and it will now serve as the new roadmap that will strengthen the hospitality industry and guide the organization into the future.
This plan was then formally unveiled at last week's STR's Annual Membership Breakfast.
CFHLA is also excited to officially unveil its new mission and vision statements, as well as core organizational values, in order to meet the needs of our members and the entire industry in 2023 and beyond.
Our new CFHLA mission is: We represent the Central Florida hospitality industry, by setting the standard of excellence through advocacy, collaboration, education, recognition, and service.
AND
Our new vision is: To be the largest, most recognized, and effective regional hospitality association in the United States. As a critical community partner, our efforts create a place where people desire to work, visit, and play.
Lastly, our new core organizational values are integrity, community, member focus, innovation, and philanthropy.
Please CLICK HERE to review the five-year strategic plan. CLICK HERE to read the press release.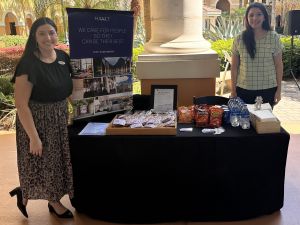 UCF Rosen Meet & Greet - Hyatt Hotels of Central Florida
March 1, 2023
On Wednesday, March 1st, leadership from several Central Florida Hyatt Brand properties participated in our second student meet and greet of 2023, at the UCF Rosen College of Hospitality Management.
Over 100 students had the opportunity to speak with General Managers and leaders from the Events, Sales, Food & Beverage, and Human Resources departments regarding what it's like to work in hotels/resorts and what career paths might be available.
Thank you so much to our CFHLA member properties, Hyatt Regency Grand Cypress, Hyatt Regency Orlando, and Hyatt Regency Orlando International Airport, for sharing your knowledge, experience, and career advice with these students!
We are so excited about the rest of the meet and greets that will take place throughout the 2023 Spring Semester!