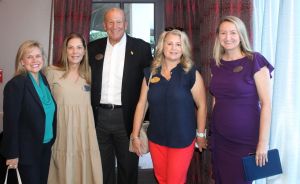 CFHLA VIP Member Breakfast
June 27, 2023
On Tuesday, June 27, CFHLA hosted its VIP Member Breakfast at the Castle Hotel, Autograph Collection (Thank you Anna Snow, General Manager).
The breakfast provided an opportunity for the VIP Members to network with general managers from CFHLA Member properties.
Additionally, VIP member companies were also given the opportunity to offer short presentations on their products and services offered to the hospitality industry.
Thank You to our 2023 VIP Members!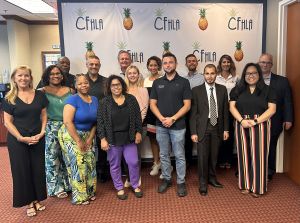 CFHLA Leadership Mentoring Class II
June 22, 2023
On Thursday, June 22, the mentors and mentees from CFHLA's Leadership Mentoring Program, Class II had the opportunity to participate in an Emotional Intelligence (EQ) for Managers training with Mark Griffiths from NewLeaf Training and Development.
During the training, Mark discussed leadership skills, asked the participants to complete self-assessments about their own personal leadership styles, and guided them on how to coach, mentor, and build relationships with other team members effectively.
We sincerely thank our CFHLA partner and member, Mark Griffiths, for sharing his time, knowledge and expertise with this year's Leadership Mentoring Program participants!
If you or your company is seeking this type of training for your team members, please contact Mark directly at mark.griffiths@newleaftd.com.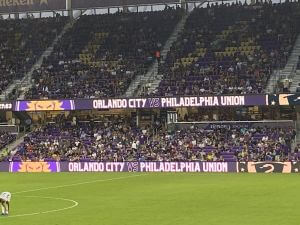 CFHLA Members Get Their Kicks at Hospitality Night
June 21, 2023
On Wednesday, June 21, CFHLA Members enjoyed a night out as the Orlando City Soccer Club and CFHLA hosted Hospitality Night at Exploria Stadium.
The evening provided a terrific opportunity to reward our hardworking staff and hospitality team members with a fun night, while supporting Orlando's hometown team.
We are very grateful for the continued partnership with Orlando City Soccer and the Orlando Pride and we truly appreciate your wonderful hospitality this week!
It was an thrilling match against against the Philadelphia Union, with the teams playing to a 2-2 draw.
CFHLA will be hosting another Hospitality Night with the Orlando Pride on Friday, July 7. For more information and to purchase your individual/group tickets, please CLICK HERE. Vamos Orlando!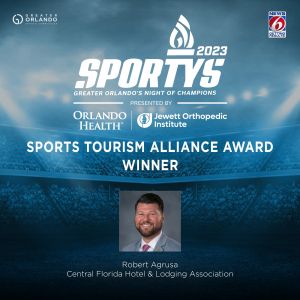 Greater Orlando Sports Commission Announces Robert Agrusa as Recipient of 2023 Sports Tourism Alliance Award
June 15, 2023
The Greater Orlando Sports Commission (GO Sports) has announced Robert Agrusa, President of the Central Florida Hotel & Lodging Association (CFHLA), as the recipient of the Sports Tourism Alliance Award as part of the 2023 SPORTYS: Greater Orlando's Night of Champions presented by Orlando Health Jewett Orthopedic Institute, which airs on WKMG-TV News 6 this Saturday, June 17 at 7 p.m.
The Sports Tourism Alliance Award recognizes an outstanding executive in the tourism industry who has demonstrated exceptional leadership and support for sports tourism in Greater Orlando, including supporting the operators of regional venues, organizations who are recruiting and hosting major sporting events, and local sports teams, leagues, and associations.
"I am so pleased to present our first Sports Tourism Alliance Award to Robert Agrusa," said Jason Siegel, President & CEO of the Greater Orlando Sports Commission. "Robert has served as a driving force behind the success of many initiatives in our community. Not only has he helped to put our community on the map as a premier sports destination, but his support has contributed to the economic growth and cultural vibrancy of our region."
"I am deeply honored and humbled to receive this inaugural recognition. This award is truly a symbol of a total team effort and a genuine collaboration between our sports community and several of the most recognizable tourism brands from across the globe," said Agrusa. "On behalf of the Central Florida Hotel and Lodging Association, I'd like to thank the Greater Orlando Sports Commission for their unwavering partnership with the Hospitality Industry. By continuing to work together to aggressively recruit and support additional sporting events within our region, our community will continue to benefit from the positive economic impacts."
The 2023 SPORTYS will honor sports business professionals whose contributions and impact are vital in making Greater Orlando one of the country's premier sports destinations. The show will air on WKMG-TV News 6 and stream online at ClickOrlando.com/watch-live, with the winners of the other 11 award categories being revealed during the broadcast.
ABOUT THE GREATER ORLANDO SPORTS COMMISSION
GO Sports is a private, non-profit organization established to attract and manage sports-related events, conferences and activities that drive positive economic development in the City of Orlando, Lake County, Orange County, Osceola County, and Seminole County. Founded in 1992-93, the organization has hosted or co-hosted more than 1,600 events in the Greater Orlando area with a total economic impact exceeding $2.6 billion in spending within the community. For more information, please visit GreaterOrlandoSports.com.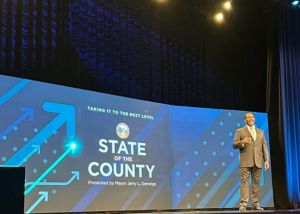 State of Orange County Address
June 9, 2023
CFHLA was proud to host the 2023 State of Orange County Address, which featured Orange County Mayor Jerry L. Demings.
Special thanks to the more than 1,000 sponsors and attendees who joined us at the Orange County Convention Center this morning, as well as those who joined us via Orange TV's streaming broadcast.
Throughout the address, Mayor Demings shared his vision on how to take Orange County "to the next level" while addressing several priorities, including transportation and infrastructure, the continued support of our tourism and hospitality industry, public safety, workforce development, Orange County's response to Hurricane Ian and more.
If you were unable to watch the address live this morning, or if you would like to enjoy it again, please click the following link to re-watch it on OrangeTV.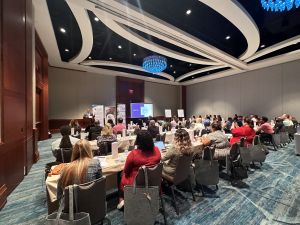 Human Resources Seminar #1
June 8, 2023
On Thursday, June 8th, CFHLA hosted our first Human Resources Seminar, as a part of our annual three-part HR Seminar Series.
Seminar #1, which was held at the Orlando World Center Marriott, featured presentations by representatives from Jackson Lewis, who provided an in-depth update on developing accommodation policies for Safety Risks, Performance Management, Gig and Remote Workers, and other Trends. Thank you, Tasos Paindiris, and Jackson Lewis, for your continued partnership with our annual HR Seminar Series!
We would also like to thank CFHLA Board Member and General Manager Robert Bray, Human Resources Director Raquel Webb, and the entire team of Orlando Marriott World Center for being our host!
If you are interested in additional information about the remaining two sessions of the Human Resources Seminar Series, please CLICK HERE.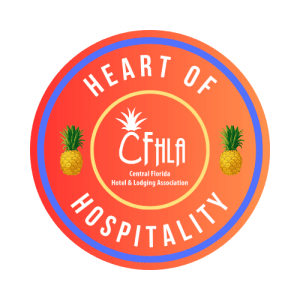 CFHLA Announces New "Heart of Hospitality" Initiative
June 1, 2023
ORLANDO, FLA (June 1, 2023) – Today, the Central Florida Hotel & Lodging Association (CFHLA) announced a new workforce development and awareness initiative called the "Heart of Hospitality." This initiative is designed to offer a glimpse into the hospitality industry and share the incredible stories of dozens of individuals who are truly at the heart of it. These stories include front-line employees, mid-level managers, and even executive-level positions, who provide exceptional service and play a pivotal role in helping to make Central Florida the top choice for visitors to return again and again.
With nearly 400,000 talented, unique and incredibly diverse individuals who make up the Central Florida Tourism and Hospitality Industry, our regional workforce is as diverse as the attractions and offerings within the region.
Currently in Central Florida, more than 62% of the hospitality and tourism workforce identifies as either black or Hispanic, compared to just 41% on the national level. Furthermore, 56% of the workforce is female and 43% of all those employed are between the ages of 23-44, both which exceed the national averages.
These hospitality professionals and their stories, will be recognized and highlighted over the summer on all of CFHLA's social media channels, as well as the Association's website (https://www.cfhla.org/heart-of-hospitality).
"Visitors come to Central Florida from all over the globe to experience our exceptional service and to explore what makes our community so inclusive," remarked Anthony Lazzara, Chairman of the CFHLA Board of Directors and General Manager of the Hotel Kinetic Orlando Universal Blvd. "Not only does travel and tourism provide an incredible impact on our community, but it also allows our hospitality professionals to provide an equal impact on those guests that they interact with on a daily basis."
"Our attractions, hotels, and resorts are all special in their own right, but what makes our region truly extraordinary is the incredible diversity and uniqueness of the employees that make up the local workforce as they are truly the heart of the Central Florida hospitality industry," commented Robert Agrusa, President and CEO of CFHLA. "Our industry has many stories to tell, and the Heart of Hospitality initiative is designed to share these stories to our local residents and help raise awareness to our future visitors from around the world."
The Central Florida Hotel and Lodging Association's mission is to represent the Central Florida Hospitality Industry, by setting the standard of excellence through advocacy, collaboration, education, recognition, and service. As the largest regional lodging association in the United States, CFHLA represents approximately 80 percent of the more than 129,500 hotel rooms in Orange, Seminole and Osceola counties, and more than 500 "supplier" organizations that do business with the hospitality and tourism industries.
For more information on the Central Florida Hotel and Lodging Association, please visit www.cfhla.org.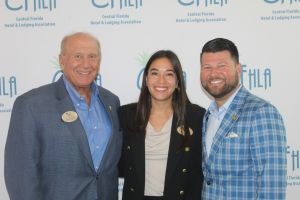 May Board of Directors Meeting & After Hours Networking Reception
June 1, 2023
On Wednesday, May 31st, the CFHLA Board of Directors held their bi-monthly meeting at the Gaylord Palms Resort & Convention Center (Thank You Johann Krieger, General Manager).
On behalf of the Board of Directors, we'd like to extend a special thanks to DT Minich, President/CEO of Experience Kissimmee for providing an update to the Board, on the current status of the tourism and hospitality industry in Osceola County and to Robert Stuart, Jr. and Chris Carmody of GrayRobinson who provided a 2023 Florida Legislative Session recap.
Additionally, we'd like to thank our CFHLA member, Helpro Cleaning Services, for sponsoring the May Board of Directors Meeting!
Then, immediately following the CFHLA Board of Directors Meeting, CFHLA hosted our second After Hours Networking Reception of the year. This networking event, which was attended by nearly 250 CFHLA Lodging and Allied Members, featured the formal introduction of our Leadership Mentoring Program, Class II participants. The 17 individuals selected for Class II, represent our up-and-coming diverse and future leaders of the Hospitality Industry throughout Orange, Osceola and Seminole counties.
Furthermore, CFHLA Board of Directors Chair, Anthony Lazzara, General Manager of the Hotel Kinetic Orlando Universal Blvd. and CFHLA  Allied Relations Council Chair and VIP Member, Erin Sims of Landform of Central Florida, Inc., honored the Lodging and Allied Members of the Month for January 2023 through May 2023.
Lastly, all attendees had the chance to hear a brief update from Norah White of the I-Drive District, as the organization is celebrating its 30th anniversary this year as well as sampling products from various CFHLA members including Kombucha 211 B.C. and Coaqua NA.