In the News - October 2023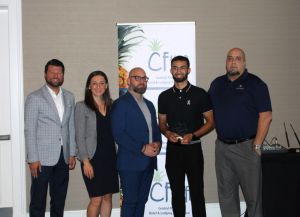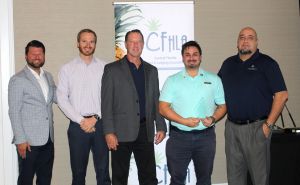 Security & Safety Council 3rd Quarter Awards Recipients
October 17, 2023
Congratulations to our Central Florida Hotel & Lodging Association Security & Safety Council third quarter award honorees,
Yadiel Machado of the Walt Disney World Swan Reserve and Jacob Valle of The Ritz-Carlton Orlando, Grande Lakes  and JW Marriott Orlando, Grande Lakes, were honored last week during the council's active assailant training seminar.
Learn more about their accomplishments & impactful efforts HERE.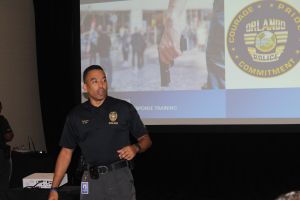 CFHLA Members Participate in Active Assailant Training
October 16, 2023
Last week, the CFHLA Security & Safety Council offered an Active Assailant training for CFHLA Members.
The two-part training featured Cpl. DeCarlos Hill, Cpl. Keith Hernandez & Cpl. Barnell Warren of the Orlando Police Department, who provided a detailed overview of the active shooter phenomenon and discussed the importance of tactical readiness.
Part two of the program featured Greg Moore, Security Director at The Mall at Millenia.
Mr. Moore's presentation familiarized attendees with situational awareness related to active shooter scenarios. Attendees were provided with a history of active shooter incidents, options for reacting to a shooting scenario in progress, expectations regarding the police/security response, and post-incident recovery.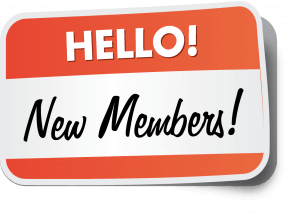 CFHLA Schedules New Member Orientation
October 9, 2023
Learn how to get the most out of your CFHLA Membership!
CFHLA will be hosting a New Member Orientation on Friday, November 17 from 10:30 a.m. - 12:00 p.m. at the CFHLA Office (located at 6675 Westwood Blvd, Suite 210. Orlando, FL 32821).
Whether you are a new member or a long-time member and would like a refresher on the organization, please join us for this terrific opportunity to learn about the Association and how to get the most out of your membership.
CLICK HERE to register and reserve your spot today! For more information, please contact Erin Walsh at erin.walsh@cfhla.org.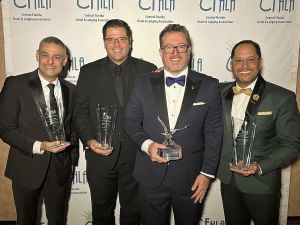 Submit Your Nominations for CFHLA Members of the Year
October 6, 2023
CFHLA is now accepting nominations for the 2023 Members of the Year.
CLICK HERE to find the official criteria and Nomination Form relating to the 2023 "Lodging Member," and "Allied Member" of the Year Awards.
Additionally, CFHLA is also accepting Nominations for "Engineer of the Year." To nominate a deserving Chief Engineer/Director of Engineering please CLICK HERE.
Each of these recipients will be awarded at the CFHLA Hospitality Gala on Saturday, December 16, 2023 at the Renaissance Orlando at SeaWorld.
To view a complete list of past award honorees, please CLICK HERE.
If you would like to nominate deserving members, all nominations must be submitted by Tuesday, October 31, to jonathan.watson@cfhla.org.
Get a Jump Start on 2024 Sponsorships
October 4, 2023
Be the first to hear and learn about 2024 Sponsorship Opportunities.
All CFHLA Members are invited to attend our annual Jumpstart Meeting on Friday, November 17, from 9 a.m. - 10 a.m. at our CFHLA Office (located at 6675 Westwood Blvd Suite 210, Orlando, FL 32821). The CFHLA team will review the upcoming sponsorship opportunities (including events, meetings, publications, etc.), fees and new marketing opportunities for FY 2024.
Register HERE to learn more about how you can take your company's visibility to the next level!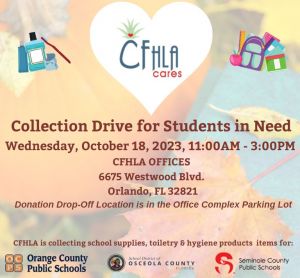 CARES Drive Scheduled for October 18
October 2, 2023
Each year, CFHLA conducts collection drives to support Central Florida Students in need throughout Orange, Osceola, and Seminole Counties, with the next CARES Drive scheduled for October 18.
Upcoming CFHLA CARES Drive
Date: October 18, 2023
Location: CFHLA Offices, 6675 Westwood Blvd., Suite 210, Orlando, FL, 32821 (Drop off in the office complex parking lot)
Time: 11:00am - 3:00pm
For more information, including a list of suggested items, or to make a donation, please CLICK HERE.